For only $295 you can save your seat!
For the Doubter, Skeptic, and Pessimist...
Finally A Workshop Just for You
We get it! The Great Game of Business is not for everyone. It takes a mindset of systemic change to make an impactful shift in business. Without the buy-in from everyone, it is hard to turn around an ocean liner.
"If you're skeptical about The Great Game of Business, welcome to the club. I myself was one of the biggest disbelievers in the beginning. There is a story in the book, The Great Game of Business: The Only Sensible Way to Run a Company, about an hourly worker, a young lady, whose introduction to The Game resulted in the elimination of her job as well as the demise of a product line. That young lady was me, Denise Bredfelt, former Director of Research and Transmission Rebuilder for SRC, and I have been known to be less than quiet and mild-mannered when things don't go the way I want. If you think SRC didn't have their hands full teaching me The Game, think again!
Is it hype? As a converted disbeliever who has played The Game from hourly to managerial ranks over the years, it's hype to the point to get you interested. After that, IT REALLY WORKS!

In fact, The Game touches everyone in a different way. There are many stories at SRC about what changed the disbelievers into believers, one by one. It would be difficult to find two people who were swayed by the same circumstances, And yet, overall, The Game serves to unite us as a corporation, sometimes against foes many times larger, allowing us to survive in this wild economy. At the same time, The Game gives us the means to challenge ourselves internally and create friendly competitions between departments. Along the way, we even have fun, and there is laughter in the halls."

~ Denise Bredfelt, The Original Doubter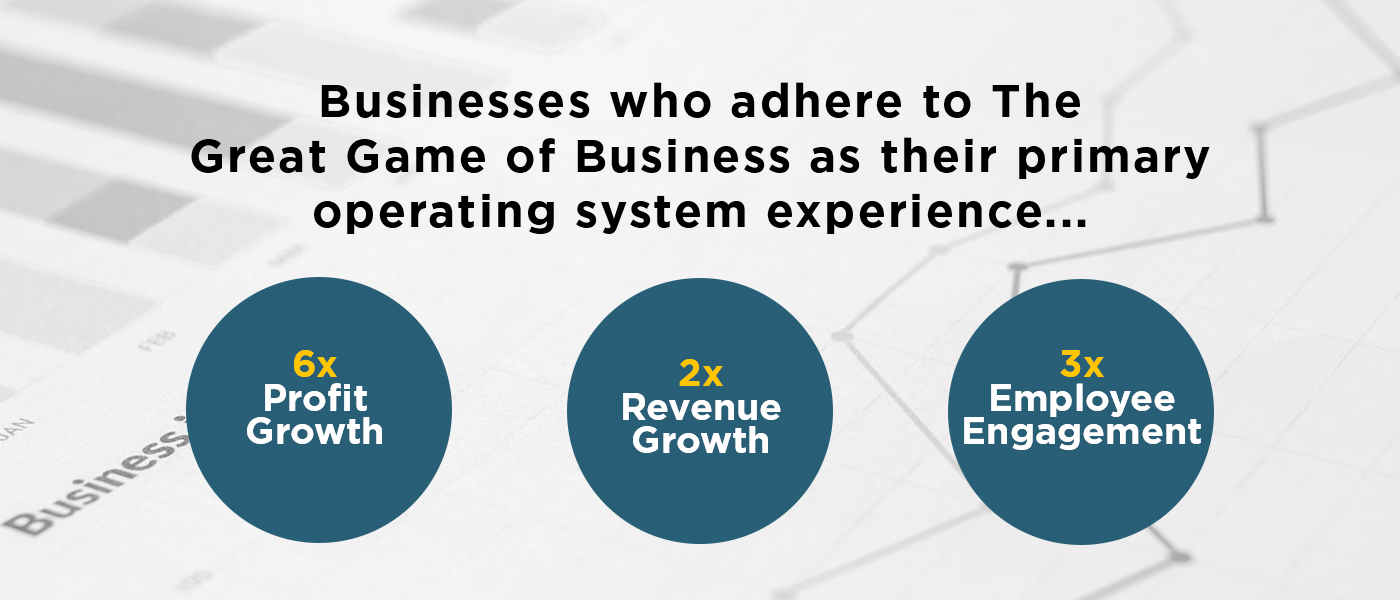 The Great Game of Business is Based on a Simple, Yet Powerful Belief
"The best, most efficient, most profitable way to run a business is to educate everybody on how the business works, give them a voice in how the company is run, and provide them a stake in the financial outcome." Building a business of business people.
The Great Game of Business is the systematic way to get everyone focused on building a better business. When you harness the collective wisdom of your people, great things can and do happen, not just to the bottom line but inside the hearts and minds of your people.
The results is long-term success for your company and long-term success for your people. You will improve your business results and the lives of the people who create those results.
The Great Game of Business is the only business operating system that reconciles the people-profits paradox, balancing the need for profit with the needs of our people. It's finance, and its culture. It's substance, and its soul. It's money. It's people. It's both.

Are you ready to learn the step-by-step business operating system that will transform your business?
IT WILL TRANSFORM
... how employees see the company financials and profits.
... your employees' understanding of how they can impact the financials.
... to a culture in which employees actively participate in planning and executing ways to increasing revenue and profits.
... the mindset of management from "I have to do it all" to "I have a team of leaders who share the burden."
WHAT YOU CAN EXPECT
This virtual event is hosted by Great Game VP Steve Baker. Steve guides participants through the pros and cons of open-book management, how to make your bonus program self-funded and guarantees you will walk away with a team building exercise or two that you can start using in your business today! Plus, you'll have the opportunity to connect one-on-one with other participants in this group, interactive environment.
EVENT HIGHLIGHTS
Learn the current market for businesses across all industries
See what open-book management

really

means to your company ...

and what it doesn't
Explore GainShare and how to self-fund bonus programs
Three exercises you can do with your employees tomorrow to help them better understand cash and your business
WHO SHOULD ATTEND
Business owners, leaders and key decision makers who really want to walk away with exercises they can do today in their own business and understand how our step-by-step operating system can transform your business.
Doubters, skeptics, pessimists, realists, or the operating system junkies who feel there is nothing new in the world, but still want new tools they can add to their toolkit.
DETAILS
Online only
December 3 from 8:30 am - 11:30 am
Price: $295 per seat