Will This Work in My Company?
We hear this question a lot when we speak to CEOs, Business Owners, and leaders like you. Ultimately, they want to know, can they implement The Great Game of Business with confidence, knowing they will have buy-in from all of their leadership.
As we dig deeper, we find that most CEOs are concerned about the efficacy, time it takes, and if the ROI of implementing The Great Game of Business is worth it. We feel it is essential to take it one step further. What would happen if we focused on building trust in and across your workforce. Would the efficacy, time it takes, and the ROI be worth it then?
I am sure we can all agree that you find yourself spending too much time in the weeds as a business leader instead of working on the business. That is why we find it important to educate, empower, and engage all employees in your business, so they think, act, and feel like you, an owner. Doing so ensures that it WILL work in your company. Our proven 10-step system of implementation creates company success, and our 10-step Strategic Planning process creates company stability.
There's Power in Doing Business Differently
Are you ready for a business system that works? We do business differently by fully educating and engaging ALL employees in the business. We believe that the people responsible for executing the plan should be involved in the plan's creation, educated on the business, and given a reward for the results they help create every day. Join us for one of our in-person events for a proven approach that has generated employee engagement, profitability, and long-term business success for 4 decades! Get real-world advice from the people who have lived it. Choose the event that's right for you, and book a workshop today!
Get in the Game™ Workshop
Learn how to get your ENTIRE team engaged and focused on the business. Receive an in-depth view of open-book management and learn how The Great Game of Business can work for YOUR organization. During this workshop, you will be guided through two days of impactful training sessions that include a detailed look at our "10-Step Approach to GGOB Implementation".
UPCOMING WORKSHOP: October 25-26, 2022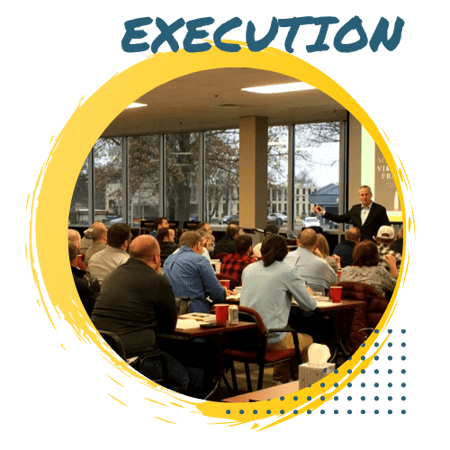 High-Involvement Planning™ Workshop
Stop working IN the business and start working ON the business with High-Involvement Planning. This workshop will teach you our strategy for business planning and how we involve the entire organization in the process. We believe the people responsible for executing the plan NEED to be involved in the plan's creation. Learn how to stay ahead of your business by evaluating the marketplace and strategically making BOLD MOVES that will create long-term success for your organization.
UPCOMING WORKSHOP: October 26-27, 2022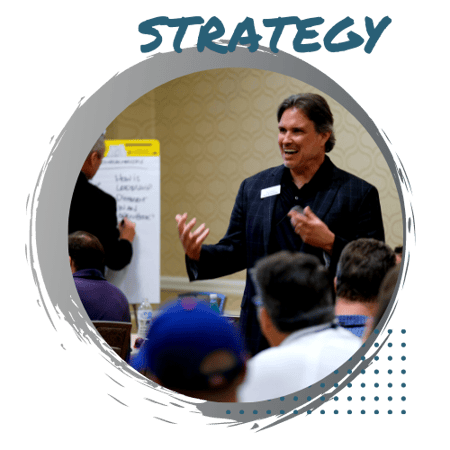 GGOB [The Great Game of Business] made mini-CFOs out of the entire team. Training the workforce in the financials was a huge shift and took the burden off of just a handful of leaders inside the company.

- Dave Pfeifer, CEO, Colville
Which Option is Right For You?
Get in the Game™ Workshop
$2,195
Who Should Attend
Business owners, leaders, and key decision makers who really want to understand how The Great Game of Business® works, and learn how to implement it in their organizations
Implemented companies who need to onboard frontline employees up through Supervisors giving them a big-picture view of The Great Game of Business operating system, including how it works and how they can contribute to its success
Anyone wanting to become a coach for The Great Game of Business
Anyone looking to see first-hand how The Game works from the birthplace of Open-Book Management, SRC Holdings Corp. in Springfield, MO
What You Get
Leadership Development
Determine Your Critical Number™
Develop the Right Drivers
Set Up a 90-Day Improvement Challenge to Correct an Immediate Weakness
Develop scoreboards to track progress
Outline a self-funded bonus program
Offsite dinner with SRC Executives
Experience a Great Game-company Huddle
Employee Q&A Session
Practitioner Q&A Session
1 free hour of coaching
High-Involvement Planning™ Workshop
$2,195
Who Should Attend
Implemented practitioners who would like to dive deep into strategic planning and get their people fully involved in the planning process

Executive teams who are involved with the company's annual planning process
Members of the sales & marketing team charged with developing and delivering on the company's annual plan
Companies onboarding leadership who already understand the 10-steps of implementation
What You Get
Your Company's Strategy for Growth
Identify Contingency Plans for Your Company
Evaluate Your Marketplace
Establish Your Company's Strategic Priorities
Build Your Sales Plan
Build Your Financial Plan
Build Your People Plan
Attend a live "State of the Marketplace" presentation
Interact with a Panel of HIP Practitioners and Coaches
Strategic Planning Q&A Session at the SRC Executive Dinner
$3,995
Who Should Attend
Companies onboarding leadership who are not already trained in the 10-steps of implementation
CEO's, managers, and supervisors looking to recharge The Game
Self-implementers looking to hone The Game

Companies new to The Great Game of Business who want to learn the 10-steps of implementation and dive deep into strategic planning strategies
What You Get
Leadership Development
Determine Your Critical Number
Develop the Right Drivers
Set Up a 90-Day Improvement Challenge to Correct an Immediate Weakness
Develop scoreboards to track progress
Outline a self-funded bonus program
Your Company's Strategy for Growth
Identify Contingency Plans for Your Company
Evaluate Your Marketplace

Establish Your Company's Strategic Priorities

Build Your Sales Plan

Build Your Financial Plan

Build Your People Plan

Attend a live "State of the Marketplace" presentation

Interact with a Panel of HIP Practitioners and Coaches

Offsite dinner with SRC Executives

Strategic Planning Q&A Session at the SRC Executive Dinner

Experience a Great Game-company Huddle

Employee Q&A Session

Practitioner Q&A Session

1 free hour of coaching