Employee Ownership Month is held every October in celebration of all the benefits that come with being an employee-owned company!
While employee ownership is definitely something to celebrate, it can be a challenge to come up with ways to share this celebration with your team, all while maintaining a full-time job. That's why The Great Game of Business® is providing resources to employee-owned companies. We hope these resources will help educate your people on the benefits of having an ESOP, as well as spark some ideas for creating a memorable October celebration.
Check out our easy-to-use resources below—and join the entire ESOP community in this celebration!
Celebration Ideas
Celebrate Employee Ownership Month with these fun ideas!
Challenge your company's ESOP knowledge by hosting a company-wide trivia party.

Surprise employees with something special, whether it be food or a gift! (t-shirt, mug, cookies, jackets, cupcakes, etc.).

Hold a t-shirt designing competition and get shirts printed for the entire team.


Host a company barbecue and bring all your yard games! (ladderball, cornhole, horseshoes, etc.).

Have a happy hour during the last hour of the work day (could be on zoom or in-person).

Recognize all employees for what percentage "vested" they are in the company. Surprise them with different colored t-shirts for different percentages vested.


Order in food from your team's favorite lunch spot! During lunch cover some facts about ESOPs (use handout below).
Education Tools
Need help explaining your ESOP to your employees?
Often employees may not fully understand what an Employee Stock Ownership Plan is, and in turn, are unaware of the benefits they hold. Download these free handouts to help educate your employees on what it means to have an ESOP and how they help people build long-term wealth.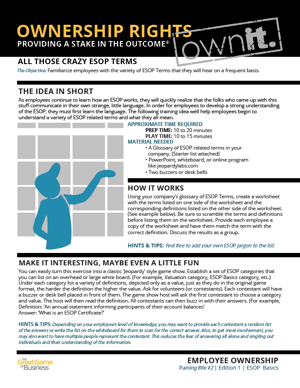 This handout goes over ESOP terms. Often, employees are unfamiliar with these terms and may have never been part of an ESOP before. This handout willl familiarize your people with the wording commonly used around ESOPs, making it a less intimidating experience.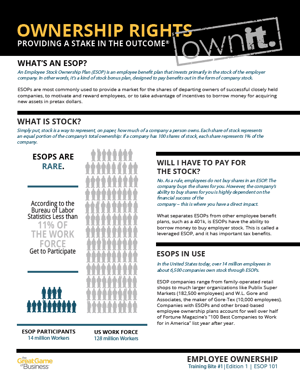 This handout goes over what an ESOP is, why a company would choose to use one, and how they work. This is a good way to introduce new employees to an ESOP, and serves for a good refresher for everyone else.