One of the best aspects of collecting the Great Game community together is the amazing people you'll meet! We design the conference to maximize networking opportunities with like-minded, like-hearted businesspeople, and our Wednesday night networking reception takes that philosophy to the next level!
Last year we celebrated 30 years of the GGOB Conference with a 90s-themed concert... this year will be more low-key, with lots of food, drinks, and fun activities to serve as the perfect backdrop for making new friends and reuniting with old ones. Great Game practitioners are the coolest of the cool, and we look forward to making lots of new memories with you!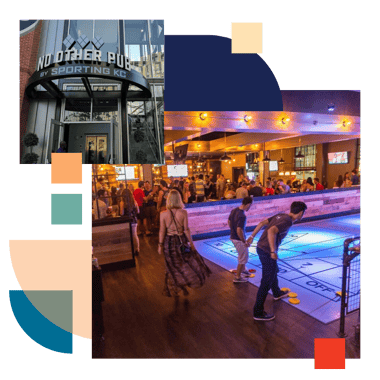 Join us Wednesday night, September 6th, from 6:30 to 9:30pm at No Other Pub in the Power & Light District. We'll be taking over the 21,000 sq ft facility, a one-of-a-kind sports bar, gaming parlor and social lounge, where you'll enjoy:
- plenty of gourmet food and an open bar
- lots of space to move around, play, mingle and network (including several quiet corners)
- unlimited games & activities, including bowling, golf, table tennis, shuffleboard, video games, foosball, darts, and more!
- 10x15 foot video wall and lots big screen TV's
No Other Pub is within walking distance from the Loews Kansas City, but your All-Access Upgrade entitles you to door-to-door transportation all night long.