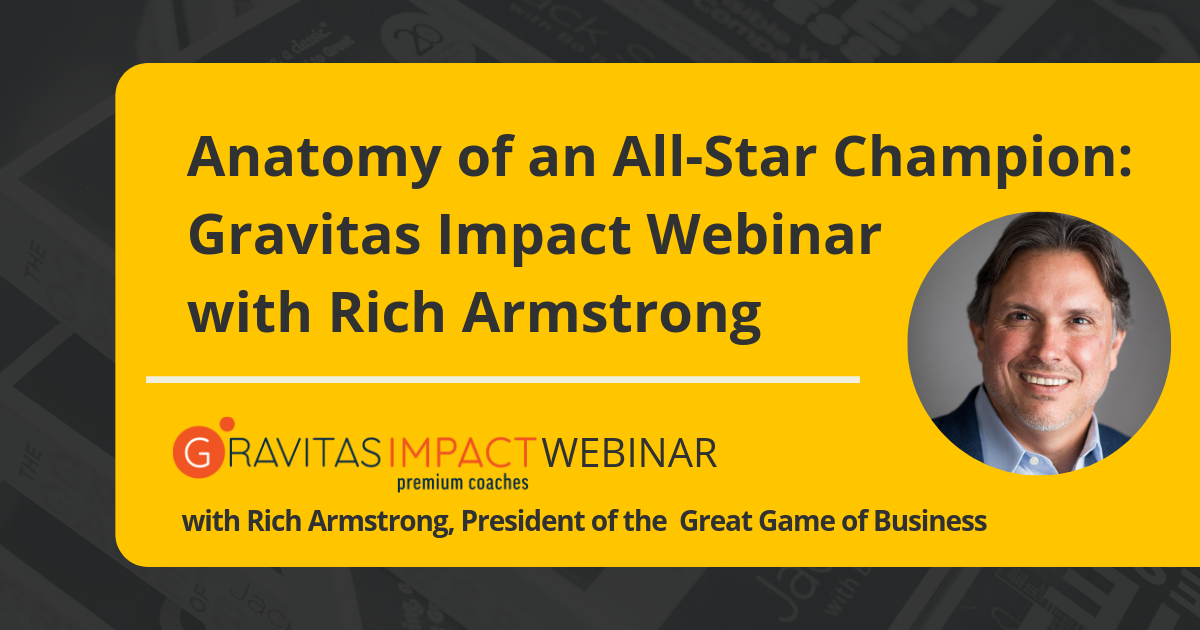 You've heard about Great Game All-Stars, but what does the transformation of a company that achieves All-Star status actually look like? This Gravitas Impact webinar, the second half of a two-part series, features Rich Armstrong as he discusses the real-life case study of Great Game practitioner Practice Velocity, measurable results, detailed MiniGame™ examples and more with Gravitas Impact President, Keith Cupp.
Gravitas Impact is a global coaching network that guides, challenges, and supports CEOs in their growing companies. They work with internationally-recognized thought leaders to help CEO's ignite groundbreaking insights to empower positive growth and ongoing success. Listen to the second half of the webinar below.
Sneak Peek- What's Included in the Webinar
GGOB President, Rich Armstrong's background at SRC.

A real-life practitioner case study featuring Practice Velocity in Chicago.

The reason this urgent care software solutions company decided GGOB was what they were looking for.

The must-do step before providing employees with equity.

The systematic way that employees can find their own drivers to influence the Critical Number™, and use that tool to drive results.

One of GGOB's strongest accountability tools according to Rich.

Case study results: measurable financial, cultural, and bonus results in addition to personal impact.

Jack Stack's input on the inception of MiniGames as a problem-solving technique that provides quick results and lasting impact within the company.

A specific detailed MiniGame example: development, structure, and results.

Rich Armstrong and Steve Baker's upcoming book,

It's Money. It's People. It's Both.
---
Want to find out more? Click below for the second half of
this Gravitas Impact webinar, featuring Rich Armstrong.
---
Other articles you might like: