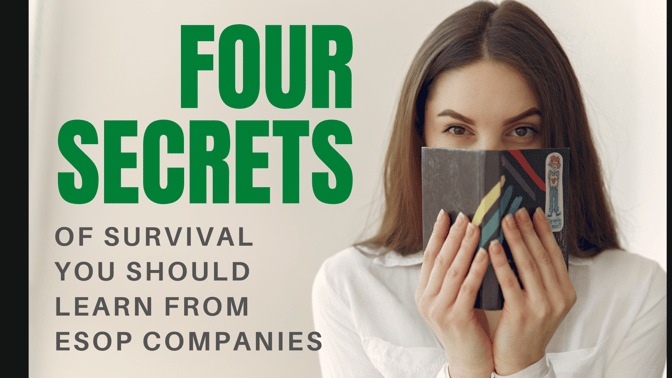 Research shows that companies who share ownership widely with employees survive recessions better than ones that do not. They lay fewer people off, they recover faster, and they often end up able to buy other companies who have not done as well.
So what is their secret, and what are they doing to survive the most extreme crisis any of us has ever faced?
That was one of the topics covered in a recent book I wrote for the NCEO, Dealing with the Economic Crisis: Lessons from ESOP Companies. About half the book looks at issues specific to ESOPs (plan restructuring, executive pay, refinancing, interim valuations, communicating valuation, etc.). The other half looks at ideas on organizational culture that any company can use—albeit they are likely to work better if you do share ownership.
Several key themes emerge from companies we looked at:
Share the Numbers
OK, you have heard that story over and over again from The Great Game of Business®, so I won't belabor it. But really, you need to do this. The numbers may be tough right now, and you might want to put a nice gloss on them, but don't.
Imagine you go to your doctor, concerned about a troubling health problem you have been experiencing. How do you want your doctor to respond? You probably don't want false optimism, and you certainly aren't eager for all gloom and doom. Instead, most likely you want a few things from your doctor:
Listen attentively and empathetically to what you have to say
Provide you with a straightforward assessment of what the problem might be
Talk about what you can do to manage the issue
Create a plan to move forward, including a regular follow up
ESOP companies who do this well, communicate both the big picture financials and the granular work-level metrics on a regular basis before they play doctor, and listen and create a plan.
Get Beyond Engagement
But a good plan is not just received from "on high" from management. It is created by a collaborative process at all levels. Employees are empowered to identify problems and generate ideas about any topic, whether a small operational change or a new product or service. Our book Beyond Engagement: How to Turn Your Company into an Idea Factory explores how to create a high-involvement culture in detail, with specific ideas and templates you can copy from great ESOP companies.
You might think that your company is already doing this. You share the numbers and you urge people to share ideas. Great companies, though, move beyond permission and encouragement to specific structures for making this happen.
Employees might know how your company makes money and how better performance at work will improve the bottom line, but if an employee has an idea, what does he or she do with it? Can they implement it on their own without asking? And if not, who do they ask? Will they just get feedback from an often busy supervisor? Can they discuss it with colleagues? And if they agree, then what? Your open door policy won't do it—it is just too ambiguous. Every company has an open door policy.
So how do you get a real idea-generating process going? Our recommendation is to form an ideas team. Ideally made up of people who are not part of senior management. They may be elected by their peers or appointed by management, but most often the team will be created through a process of some people volunteering and some people being asked by management to serve. Teams can vary in size from two to three people to several. In multi-divisional companies, there may be teams at each division level and an overall steering committee.
The charge of the team is to create and operate an ideas process. It is essential that ideas not just be solutions to problems. In fact, it is arguably much more important to be able to identify problems.
So how are ESOP companies taking these lessons to heart now?
An employee team at ESOP owned engineering firm EEA is exploring engineering solutions to help convert hotels into temporary medical facilities while limiting the number of people required to be in the rooms to do it (they would use a sterilizing machine hooked up outside the rooms). Radian Research CEO, Tim Everidge, points to a series of self-managing teams in several areas made up of finance, sales, engineering, and shop floor production employees. The Branding and Promotion Committee, for instance, launched new webinar training sessions for customers working at home. Kelly Prior, CEO of Litehouse, a 100% ESOP-owned manufacturer of popular salad dressings and other food products, says they have weekly "garage start-up" approach meetings to come up with new ideas, such as a free delivery option via Instacart to help retailers keep in-store shopping to a minimum. At Realityworks, CFO Mary Boettcher told the NCEO that "recently a team completed testing the pediatric nursing manikin, external tube ID models, and the knife skills kit. Beyond that our employee teams have other exciting new products moving fast and furious through the final phases of product development.
Training for new opportunities
Where people have time because the work flow has slowed, some companies lay them off or reduce hours. But if you can afford it, this is a great time to have employees start researching possible new opportunities. For instance, employee-owners at EEA are looking at how COVID-19 will change construction needs for materials and processes that may provide new business opportunities. Other employees are catching up on training opportunities they would have to pass up in busier times. EEA's idea is to identify gaps in skills, envision what the future challenges and opportunities might be, and use any down time to gain those skills.
Odell Brewing and the Motz Group are among the many companies using any down time to train people in areas that either help develop their skills and/or move to different jobs in the organization. This will make their companies more flexible in good times but also stimulate more creative thinking about markets and products they are not currently providing. It also means keeping people on the payroll rather than having to rehire when things start back up.
Work Better Remotely
Research by Gallup found that employee engagement increases when employees spend some time working remotely and some time working in a location with their coworkers. The research showed that "Weekly face time with coworkers and managers seems to affect engagement: the optimal engagement boost occurs when employees spend 60% to 80% of their time working off-site—or three to four days in a five-day workweek. It's worth noting that five years earlier, in 2012, the optimal engagement boost was experienced by workers who spent less than 20% of their time working remotely."
Common tips we heard from our members on working remotely include:
Make sure managers spend more time checking in with employees, even if only briefly.
Consider having a virtual water cooler and/or regular social event.
Think about the dynamics of in-person versus virtual meetings. Lacking in-person visual clues, do some people tend to talk more and some less? Should the meeting facilitator make sure that those talking less are called on or create a protocol for who gets to talk when (like mainlining a queue)?
Have a regular short idea call-in, where one person can discuss a new idea and see if anyone wants to join that project.
Make sure everyone has the right technology and knows how to use it or can get trained.
Discourage the dreaded "reply all" except when really needed. When email is being used more to communicate because there are no face-to-face meetings, this classic problem can become even more of an issue.
Survey workers to see how working remotely is going (a sample survey on this and on COVID-19 issues is in the NCEO members area documents library).
Tim Everidge of Radian told us, for instance, that "each manager of remote employees has electronic huddles every day using Microsoft Teams. These huddles are on top of any regular meetings, because the huddle is simply about human interaction. One manager let me know that she varies the subjects of the huddles by employee input. For example, one huddle was about pets where each employee in the department talked about their pets."
Remote work may also provide some ancillary advantages. It could mean substantially increasing the available pool of job candidates if work is no longer tethered to location. In some high cost of living areas, employers may be able to retain employees who otherwise would not be able to afford staying there.
There is, of course, a lot more to talk about, and in an upcoming podcast with Great Game™, I will be doing just that.
---
Corey has a lot more to talk about! Check out his Change the Game Podcast appearance, Friday, July 7th at 11 am or watch the recording at greatgame.com/live.