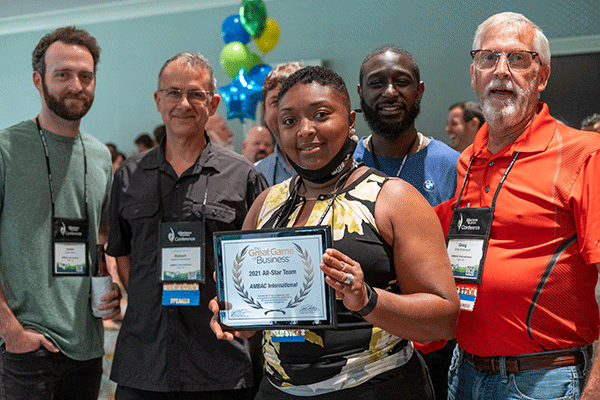 All-Star Awards are given for Rookie of the Year, Social Sector, Hall of Fame Inductee, International, and All-Star Champions. This is your chance to let everyone know what your company has achieved!
What organization couldn't use more recognition?
As a Great Game of Business practitioner, you already know the value of recognizing and celebrating company-wide accomplishments. The All-Star Awards are a public acknowledgment that your company is unique - an organization that runs your business in a way that includes trust, business education, involvement, open communication, shared risks, and shared rewards. Send out a press release, tweet about it, make t-shirts, call your local business journal or TV station, hang banners, make a YouTube video of the celebration. Go ahead, do what you do best … recognize and celebrate the win!
Evaluate your process through a FREE employee survey.
A yearly employee survey starts at $750, but you get the employee survey as an All-Star finalist for free, and this year will include the Rutgers comparison report! Use the process to evaluate how you're doing in practicing open-book management. Reflect on what's working and what's not, listen to your employees, review the 'Practice Scorecard,' and see where improvements can be made. Let's face it; we all want to know how we stack up to the 'Best of the Best' – that's how we get better! Remember, it's about continuous learning.
The Swag.
Each finalist will become part of an exclusive All-Star Team and will receive:
results of your employee surveys indicating the strengths and weaknesses of your open-book management practices
an official report from Rutgers School of Management and Labor Relations
an industry-focused financial benchmarking tool
a written case study highlighting your story and results from practicing The Great Game of Business
and promotion by GGOB throughout the year
Additionally, All-Star Award Champions will receive:
a highlight video, documenting your Great Game journey and accomplishments
on-stage recognition by Jack Stack at a trophy presentation during The Great Game of Business Conference
Are you ready to stand with the best of the best? Email dpetiford@ggob.com for information on how to apply for an All-Star award in 2023.